My mother is a Financial Superwoman!
All mothers are financial superwoman, aren't they?
 Mother, they say is the first teacher. It was probably Ben Franklin's mom, who taught him "a penny saved is a penny earned." 
 Long before financial gurus started preaching about the value of financial planning and financial rules one must follow, my Mom had already been practicing it, albeit informally.
 Sacrificing her own desires, Balancing the needs and the wants of each member of the family, still sticking to the budget and also keeping aside in different jars and saving for the rainy day is all done so effortlessly and without any formal training or knowledge.
 Don't Waste money. Money doesn't grow on trees. We cannot afford it, Each paisa counts.
How many times have we heard these words from our mother in our growing up years.
Despite many tantrums, a no meant no, come what may and then came the explanation and perspective from her on why our wish couldn't be fulfilled.
 There are some fundamental yet powerful financials lessons that each person learns from their parents in general and mother in particular. Often, we do not realize how our mothers teach us important financial lessons that we use for life.
She leads by example when creating a budget and managing the household financials effortlessly.
There are innumerable financial lessons to be learnt from our mothers.
Among all the things that a mother teaches and bestows upon her children, financial lessons sometimes do not get the deserved limelight!
Everyone acknowledges the ethical and moral values that a mother teaches her children.
However, that is not all that a mother offers.
If you keenly observe your mum and look back, you can realize that she had designed a certain system for herself every step of the way. Be it grinding vegetables, or waking her children up, or even saving money!
Thinking back and connecting the dots, we can realize that there is a lot more that we have learnt from our mother.
Create a Budget
The main finance lesson that each of has learnt from our mother is creating a budget. We all agree that mothers are called the Finance Ministers of the house and now we can understand why.
It is amazing, how accurately and efficiently our mothers create a budget for monthly expenses. Mum also decides beforehand how much money is going to be spent and where. No shortfall, no overspending, all deadlines met, totally balanced. (I wish a mother could be the Finance Minister of our country)
This is truly an art and a world-class one at that! Now, whenever we make a good budget, we know whom to give credits.
Save Away, No matter how small the amount.
Let us recall the time when our mom gave us a piggy bank.
Back then, it used to be a fun activity for us. But you know what that fun piggy bank activity taught us?
Saving.
I Remember how Ma would give us a coin every time we helped her out in a chore or finished our homework on time or behaving when the guests had come; And then she would say "Put it in you piggy bank, once it fills up, you can buy that remote control car"             
Now, how can you apply that in reality?
Today you know you need save in substantial investment instruments like mutual funds or stocks to fulfill your short-term and long-term financial goals But that financial journey kick-started with your Mum.
 Then came the valuable lesson behind the entire exercise. She told us so accurately that savings is an important exercise and encouraged us to do the same.
 Not only did she tell us this, she also led by example.
The money could have been saved in a box, in a drawer, between her clothes in the cupboard, or somewhere else but she would put some money away every month. No matter how much small the amount was.
I distinctly remember that my mother was the first person who told me that from whatever you earn, big or small,  you must first set aside some amount, as deemed fit, in the form of savings. Then, out of the remaining, you can look to plan your expenses. Today, this is exactly what we advise all our clients; Your expenditure should be Earnings minus savings and not Earnings minus expenditure should be equal to savings.
Setting Financial Goals
This one is an extension of the earlier financial lesson of creating a budget and developing the habit of savings.
Setting a financial goal goes a long way in accumulating money required for various essential milestones and activities in life.
My mother always encouraged us to make and implement a financial plan for our goals. Be it a trip that we want to go to next year, or a bike that we want to purchase after some time, planning always helps.
 Be it children's marriage, education or something else; setting financial goals or buying a slightly more expensive appliance, mothers always have a goal which they always seem to fulfill and within the stipulated time!
Taking Monetary Decisions Calmly
This advice is like the universal truth said by all moms, each and every time. Though it might seem to be very trivial at the moment, its importance cannot be undermined.
In a lot of situations, wherein significant and important money decisions are involved, it helps to sit back, take a deep breath and think clearly. This simple exercise can save us our hard earned money from being wasted or spent in an inefficient manner.
The implicit thing over here is to think calmly, whether it is good use of money.
Mothers lay the foundation for 3 simple and basic rules in life:
 Do I need this?
 How much of it do I need
 Is it worth the money?
Sometimes it's best to take important money decisions the old way. Writing the outlay of money and comparing it with the benefits, on a piece of paper, can work better than you might think.                      
Keeping It Simple
We can't even begin to tell you how important this tip is and she teaches us all this through her own example!
Simply writing down the daily expenses in her diary, saving up for something or just  being wise with money, mothers follow these tricks without help from an advisor!
 Although it may seem contrary and/or trivial, more often than not, it helps to keep finances simple. Don't complicate your savings and investments. Don't mix investments and insurance, invest in a business you understand are the gospels we follow as financial advisors today.
The simpler it is, the easier our lives will be and better the concerned decision will turn out to be.
Being Frugal Isn't Always Bad
 It isn't a bargain if you don't need it. It's those "bargains" that can keep you broke!
 Haven't our parents told us that we need to realize the value of money.
 This is usually followed by how our parents worked so hard to earn the money and save it for us. An important lesson here is to appreciate the value of money.
 All of us can observe this at our homes, how our mom never bought something she doesn't need. She doesn't indulge in any sort of wasteful expenditure whatsoever.
She calculates and plans as to where can she get the cheapest and best quality grocery or home appliances.
 We can all learn to be frugal like her and thank her when we realize that the savings are significant. Our mom realizes that each paisa counts.
Living Within One's Means
Mothers have always told us repeatedly that we should live within our means. But what does this really mean?
 It is not some rocket-science, but a very simple theory. To live within ones means is to spend only as much or preferably a little less than what one earns.
Sometimes we go on a spending spree and go overboard. We forget about our income and our position to buy a product or not.
Credit cards and EMIs have aided this overspending habit in a huge way. People tend to take a lot of debt and sometimes struggle to repay it all together.
While EMIs may give you instant pleasure, it also brings with it a lot of risk. Therefore, each and every person should live within one's means and spend in a planned manner.
 The Value of Investing
 The lesson for planning the future also includes investing.
 Investing now to reap benefits later is one of the most important financial lessons that we learn. My mother always encouraged me to invest in the future.
 In my childhood, this investment was in the form of education. Not only did she preach this, but also practiced it by investing her time and money in my education.
 When I started earning, she encouraged me to save for a contingency and invest for my old age.
Be Generous In addition to teaching me about money, my mom imparted one great general life wisdom that I've always kept with me; Be Generous. "If you live life with an open hand, it comes back to you." For my entire life, I've watched my parents provide financial support when they could to familyand friends, no strings attached. If they had it and it wasn't going to break them, they would give it because they knew, how much God had blessed them. My parents have always been of the mind that when you give, that much and more comes back to you.I always found that they used to Give because it brought a smile to their face and made them happy.
Tithing
My mother was also the one who taught me the importance of "Tithing"; giving away 10% of your income for charity. Since the time I remember, be it any festival or any occasion, my mother telling me, touch this or give this to the needy or the Panditji who used to visit regularly. Her favourite people to donate to, used to be the domestic help and their families, who used to get regular share of money, clothes, assistance in school fees and much more. Indeed, I continue to believe that the secret of getting what you want, is to give it first.
Whatever advice your mother gives you—whether it's about money or anything else—take it to heart. After all, you can bet it's going to be priceless!
Thanks mom for all you have taught me; I love you and have a great and happy Mother's Day!
Happy Investing!
Stay Blessed Forever
 Sandeep Sahni

Note: All information provided in this blog is for educational purposes only and does not constitute any professional advice or service. Readers are requested to consult a financial advisor before investing as investments are subject to Market Risks.
About The author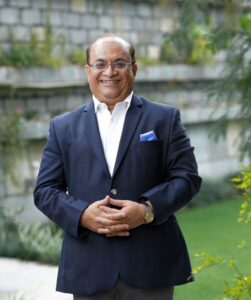 Sandeep Sahni
After completing his schooling from St. Johns, Chandigarh (Class of 1980) and Modern School, New Delhi, (Class of 1982) Sandeep did his B. Com (Hons.) from Shri Ram College of Commerce, Delhi University (Class of 1985).
Sandeep is an alum of IIM Lucknow with a Post Graduate Degree (MBA class of 1988).
He has also written two books, 'Dear Son, Life Lessons from a Father' on the teachings of Life https://www.amazon.in/dp/1637815271 and the Second book which he has Co Authored titled, 'What My MBA Didn't teach me about Money' on the Human and Financial perspective of money. https://www.amazon.in/dp/1637816502
He has a rich work experience and started his career as a corporate man with Asian Paints after IIML. He has a rich experience covering the FMCG, Food Distribution, Cold Chain, Logistics, and Hospitality Industries. He is currently in the Wealth Management and Personal Finance domain. He has a passion for finance and is an active speaker on topics in finance. The stories he narrates strike a chord close to his heart, as they are based on events from his own life. He believes in a holistic view of Personal Finance.
Sandeep's investing experience and study of the Financial Markets spans over 30 years. He is based in Chandigarh and is advising more than 500 clients across the globe on Financial Planning and Wealth Management.
He has promoted "Sahayak Gurukul" which is an attempt to share thoughts and knowledge on aspects related to Personal Finance and Wealth Management. Sahayak Gurukul provides financial insights into the markets, economy and Investments. Whether you are new to the personal finance domain or a professional looking to make your money work for you, the Sahayak Gurukul blogs and workshops are curated to demystify investing, simplify complex personal finance topics and help investors make better decisions about their money.
Alongside, Sandeep conducts regular Investor Awareness Programs and workshops for Training of Mutual Fund Distributors, and workshops and seminars on Financial Planning for Corporate groups, Teachers, Doctors and Other professionals.
Through his interactions and workshops, Sandeep works towards breaking the myths and illusions about money and finance.
His passion has driven him towards career counselling for young adults and mentoring the youngsters on achieving their life goals and becoming "Successful Humans"
He also writes a well-read blog; https://sahayakgurukul.blogspot.com
He has also conducted presentations, workshops and guest lectures at professional colleges and management institutes for students on Financial Planning and Wealth Creation.
He can be reached at:
+91-9888220088, 9814112988,
sandeepsahni@sahayakassociates.in
Follow on:
www.sahayakassociates.in,
www.facebook.com/sahayakassociates,
www.twitter.com/sahayakassociat,https://www.instagram.com/sahayakassociates/
https://sahayakgurukul.blogspot.com, https://www.sahayakassociates.in/resources/our-blog
https://www.linkedin.com/in/sandeepkhukhrain