Our brains process visuals almost 60,000 times faster than text. That's why our brains love watching video. Not only do videos grab attention, they keep it. Because they can combine movement, sound, and text, videos can pack a lot of information into a smaller package. It's been said that a one-minute video is worth 1.8 million words. Your brain can also process visuals much quicker than it can text.
Our Team training sessions regularly have a video component whether related to motivation, skill building or business development.
From all the videos we have watched in 2022, our team has collated the best 22 videos based on a short opinion poll of our staff and select viewers.
Enjoy the videos. If you like them, share them with your family and friends. We look forward to your feedback so that we can improve. Kindly share any videos that you have liked so that we can improve our library
1.Prannoy Roy And Ruchir Sharma Discuss India's Economic Progress
Speakers: Prannoy Roy And Ruchir Sharma
Source: https://youtu.be/Tla9BshcGJU
Global investor and speaker Ruchir Sharma discussed the story of the 75-year-old Indian economy with Economist & NDTV's Journalist Mr. Prannoy Roy. We'll be showing you some crucial charts and data on India. And every data insight in this program is based on a great deal of research done by Ruchir Sharma and his team to help us understand where India is today, 75 years after independence and where we are heading.
2. Warren Buffet's Life Advice Will Change Your Future
Speakers: Warren Buffet and Bill Gates
Source:https://youtu.be/PX5-XyBNi00
Warren Buffet and Bill Gates share their thoughts about optimism, humility, politics, climate change and long term investing. An absolutely fascinating motivational speech by the Richest Men Alive.
3. Future of Digital Commerce with ONDC – Startup India Innovation Week
Speaker: Nandan Nilekani
Source: https://youtu.be/cziZ_Hmv_IQ
Shri Nandan Nilekani addresses the Startup India Innovation Week and talks about India's journey of transformation and the Future of Digital Commerce with the Open Network For Digital Commerce. He elaborates on digital change with examples, credits the people behind them and ONDC, the platform which is going to challenge Amazon.
4. Abundance is our future
Speaker: Peter Diamandis
Source: https://youtu.be/BltRufe5kkI
Peter Diamandis makes a case for optimism — that we'll invent, innovate and create ways to solve the challenges that loom over us Onstage at TEDTALKS.
5. The Infinite Game – ONE OF BEST SPEECHES EVER
Speaker: Simon Sinek
Source: https://youtu.be/cr6a8lz1NOg
In this inspirational speech Simon Sinek talks about the essentials of the Infinite Game and then guide the viewers on how to become an infinite player in business setting.
6. Gravitas Plus: India's achievements @75
Speaker: Palki Sharma
Source: https://youtu.be/xZ-3BIKbjtE
As India celebrates 75 years of independence, Palki Sharma Upadhyay brings you a round-up of India's biggest success stories over the last 7 decades. How did a country written off by so many & left impoverished by its colonisers become a global force to reckon with?
7. As A Man Thinketh (1903)
Speaker: James Allen
Source: https://youtu.be/VeBX4WjhhXs
James Allen writes from personal life experiences of mental building himself up and out of despair and the struggle he experienced as a youth. From the publication of this book forward he would publish a book a year until his death in 1912. This book would go on to inspire Napoleon Hill, Dale Carnegie, Marxus Garvey, and many others. By directing our thoughts toward greatness and achieving personal goals, he teaches that we don't attract what we want so much as we attract what we are.
8. How to speak so that people want to listen
Speaker: Julian Treasure
Source: https://youtu.be/eIho2S0ZahI
In this useful talk, Julian Treasure, the sound expert demonstrates the how-to's of powerful speaking from some handy vocal exercises to tips on how to speak with empathy. A talk that might help the world sound more beautiful.
9. Don't bet against India. Sensex may hit 2,00,000 in 10 years!
Speakers: Raamdeo Agrawal
Source: https://youtu.be/eCLmQtOpwyw
The chairman of Motilal Oswal Asset management, Raamdeo Agrawal shares his strong opinions on Indian financial markets hitting great highs in the future and why one shouldn't bet against India.
10. Food for thought: How your belly controls your brain
Speaker: Ruairi Robertson
Source: https://youtu.be/awtmTJW9ic8
A nutritionist, microbiologist and neuroscientist, Ruairi Robertson shared his research on how our intestines and the microbes can influence both physical and mental health, and most importantly how our diets influence this relationship.
11. Beating The Bears & Leading The Next Bull Run
Speakers: Ridham Desai, A Balasubramanian and Atul Suri
Source: https://youtu.be/SBeqjJz4xJ0
Watch this power-packed panel of MDs of big Investment Banks and AMCs as they discuss the Indian markets and the way forward.
12. You Can BECOME What You IMAGINE! | Top 10 Rules
Speaker: Earl Nightingale
Source: https://youtu.be/7KFYSharb3A
American radio personality, Earl Nightingale, shared his top 10 rules on How One Can Become What One Has IMAGINE! Few rules being Improve your attitude, Recognize opportunity, Exercise your mind and many more.
13. This Simple 3-Minute Video Will Change Your Perception of Time Forever
Speaker: Fiona Macdonald
Source: https://youtu.be/0yBzxC9eoog
Watch to see where Earth's major events would fall on a timeline stretching across the US. Science Insider tells you all you need to know about science: space, medicine, biotech, physiology, and more.
14.  Virat Kohli winning it for India
Source: https://www.icc-cricket.com/video/2870270
Watch how the modern day master and king of world cricket- Virat Kohli handled pressure situation and took his team out of the jaws of defeat.
15. If you need to say sorry to someone
Speaker: Gaur Gopal Das
Source: https://youtu.be/I6QwXyE0J9c
Gaur Gopal Das Ji, shares his personal experience on forgiveness is the foundation of a deep, meaningful, and true relationship.
16. "We are in a debt trap" – Nouriel Roubini on 10 'megathreats' to our world and how to stop them
Speaker: Nouriel Roubini
Source: https://youtu.be/ADh6QTp8798
Nouriel Roubini is an economist, a professor in New York, a global economic consultant and an author who, amongst many distinguishing things, was one of those who foresaw the 2008 credit crunch and financial crisis.
17. One of the Most Motivational Videos You'll Ever See [Belief Changer]
Speaker: Will Smith, Steve Harvey, Jon Jones, Conor McGregor, Tyrese Gibson and Charles Bukowski
Source: https://youtu.be/znwRzsYLr6s
We are the prisoner of our own mind, if we don't control our mind, our mind will control us. A great motivational video which will put your life into perspective and the more a person listens to this, the more meaning one can extract from it.
18. FOCUS ON YOU EVERY DAY || Best Motivational Video 2022
Speakers: Jack Ma, Mel Robbins, Oprah Winfrey, David Goggins, Jim Rohn, Les Brown and Eric Thomas
Source: https://youtu.be/eCIHmghtLXw
"The only controllable thing you have is your work ethic." A great motivational video that puts emphasis on why one should focus on oneself for growth and success.
19. Why great leaders take humor seriously
Speakers: Jennifer Aaker and Naomi Bagdonas
Source: https://youtu.be/uJKDipbCzdc
Behavioral scientist Jennifer Aaker and corporate strategist Naomi Bagdonas delve into the surprising power of humor: why it's a secret weapon to build bonds, power, creativity and resilience — and how we can all have more of it.
20. The power of purpose in business
Speaker: Ashley M. Grice
Source: https://youtu.be/j4QlG5jKpio
Strategist Ashley M. Grice explains the power of purpose to push boundaries of innovation and bring clarity to every aspect of an organization, from the top floor to the shop floor.
21. Warren Buffett Leaves The Audience SPEECHLESS | One of the Most Inspiring Speeches Ever
Speaker: Warren Buffett
Source: https://youtu.be/h89uOvUDVO4
Warren Buffett shares two stories about women who started from nothing and sold their businesses to the legendary investor. This is one of the greatest speeches Mr. Buffett has ever delivered and he also gives really good advice to all entrepreneurs in the audience.
22. What My MBA Did not Teach me About Money
Speaker: Mr. Sandeep Sahni
Source: https://youtu.be/m1sDWDdaoT0
Mr. Sandeep Sahni shares his real and practical strategies to work around Money beliefs, Hiccups in finance, Navigating stock markets, Overcoming our own biases and controlling our vulnerabilities in those special situations when we are most likely to make money mistakes during TIE event at Hayatt Centric, Chandigarh.
Happy Viewing!
Have a great year ahead.
Stay Blessed Forever.
Kindly check our earlier blog on a similar subject : Investment Lessons from Mythology at https://sahayakgurukul.blogspot.com/2019/03/investment-lessons-from-mythology.html OR https://www.sahayakassociates.in/resources/our-blog/2553-sahayak-associates/sahayak-associates-blog/8435-investment-lessons-from-mythology 
Note: All information provided in this blog is for educational purposes only and does not constitute any professional advice or service. Readers are requested to consult a financial advisor before investing as investments are subject to Market Risks.
About The author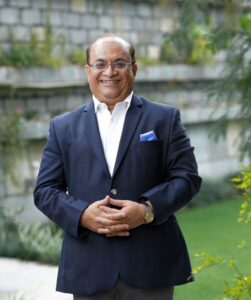 Sandeep Sahni
After completing his schooling from St. Johns, Chandigarh (Class of 1980) and Modern School, New Delhi, (Class of 1982) Sandeep did his B. Com (Hons.) from Shri Ram College of Commerce, Delhi University (Class of 1985).
Sandeep is an alum of IIM Lucknow with a Post Graduate Degree (MBA class of 1988).
He has also written two books, 'Dear Son, Life Lessons from a Father' on the teachings of Life https://www.amazon.in/dp/1637815271 and the Second book which he has Co Authored titled, 'What My MBA Didn't teach me about Money' on the Human and Financial perspective of money. https://www.amazon.in/dp/1637816502
He has a rich work experience and started his career as a corporate man with Asian Paints after IIML. He has a rich experience covering the FMCG, Food Distribution, Cold Chain, Logistics, and Hospitality Industries. He is currently in the Wealth Management and Personal Finance domain. He has a passion for finance and is an active speaker on topics in finance. The stories he narrates strike a chord close to his heart, as they are based on events from his own life. He believes in a holistic view of Personal Finance.
Sandeep's investing experience and study of the Financial Markets spans over 30 years. He is based in Chandigarh and is advising more than 500 clients across the globe on Financial Planning and Wealth Management.
He has promoted "Sahayak Gurukul" which is an attempt to share thoughts and knowledge on aspects related to Personal Finance and Wealth Management. Sahayak Gurukul provides financial insights into the markets, economy and Investments. Whether you are new to the personal finance domain or a professional looking to make your money work for you, the Sahayak Gurukul blogs and workshops are curated to demystify investing, simplify complex personal finance topics and help investors make better decisions about their money.
Alongside, Sandeep conducts regular Investor Awareness Programs and workshops for Training of Mutual Fund Distributors, and workshops and seminars on Financial Planning for Corporate groups, Teachers, Doctors and Other professionals.
Through his interactions and workshops, Sandeep works towards breaking the myths and illusions about money and finance.
His passion has driven him towards career counselling for young adults and mentoring the youngsters on achieving their life goals and becoming "Successful Humans"
He also writes a well-read blog; https://sahayakgurukul.blogspot.com
He has also conducted presentations, workshops and guest lectures at professional colleges and management institutes for students on Financial Planning and Wealth Creation.
He can be reached at:
+91-9888220088, 9814112988,
sandeepsahni@sahayakassociates.in
Follow on:
www.sahayakassociates.in,
www.facebook.com/sahayakassociates,
www.twitter.com/sahayakassociat,https://www.instagram.com/sahayakassociates/
https://sahayakgurukul.blogspot.com, https://www.sahayakassociates.in/resources/our-blog
https://www.linkedin.com/in/sandeepkhukhrain