"I don't care too much about money, because money can't buy me love…"
I know what you're thinking: Who talks about money on Valentine's Day?
It's Valentine's Day and talking about money matters and financial planning at the same time doesn't sound very romantic.
But, there's a real good reason to talk about financial matters on this day.
Love is said to be the most wonderful feeling in the world. It is true that money cannot buy love and happiness, but money can certainly buy things through which people can
express their love and buy essential things that make you happy. Love is essential in every human life, but money is also very important to live a life of comfort.
Do you know money is the number one issue married couples fight about?
The main reason for breakup of relationship, leading to separation and divorce is infidelity and the second main reason is Money or Financial Infidelity.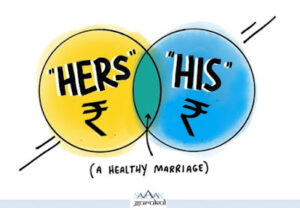 Of late, Money matters are one of the prime reasons for stress in relationships and marriage and the reasons couples break up. Being unfaithful to your spouse doesn't
always involve an affair. Sometimes it's when you're unfaithful to a shared financial vision by opening a side bank account or stashing away cash, That's also deceitful. The
same applies if you have a credit card your spouse knows nothing about, or even the fact that you are helping a family member or friend without your partners knowledge.
Many an infidelity also may also have its root cause in money and unmet expectations.
Love and money are two extremely complex subjects in their own right. When they're mixed haphazardly, it could create a recipe for disaster. Relationships are inherently
complex, especially in the present day and age. There are various reasons that determine whether or not someone enters into and remains in a relationship. Many
people have their own objectives when it comes to relationships and the motivating factors that drive them.
What is more important, money or love?
Both can be important in their own way to make our life work. Money should not be the main objective of your relationship. And financial success usually comes as a result of a partnership that works, from love. That is why it is important to have both money and love.
For those who think that money is more important than love, they believe so because they believe that money is the glue that keeps the couple together. Without money, they cannot buy the house to move in together, Without love, you will live empty inside.
How important is money in marriage?
Having money in marriage helps to make marriage more enjoyable. The things money can buy will reduce the pressure couples feel. This will enable the couple
to focus on building the relationship even more in an atmosphere of love and affection.
For a healthy relationship, One of the first things that couples need to do is to broach the subject – Don't ignore the money talk. The most essential step in financial compatibility is to open the lines of communication. Most couples spend more time discussing
restaurant choices than money matters.
Discussions on where you're at with regard to saving and spending should be a regular activity. Go over monthly bills with your spouse, revisit your goals, review your
portfolio at the end of the year and discuss your achievement vis-a-vis your goals. There are couples who communicate about their finances via email or WhatsApp. It
works best for them when each of them takes the time to put their thoughts in writing and then allow their partner to review and respond at a time that's convenient. Other folks like to sit down over dinner or chat while taking a walk or during a drive. There's no correct venue for these conversations, they just need to happen.
Answer the following questions frankly and you will know where you stand in your financial relationship with your partner.

Do you spend money or make purchases and hide them from your partner?
Do you pay cash, so he/she won't know what you spend money on?
Do you have debt or bad investments that you are hiding?
Do you share your credit score?
Does your spouse know what to do and whom to contact in case of a financial emergency?
The first step in developing a healthy money relationship with your partner is to come clean with all things financial, instead of hiding money secrets. Money secrets can drive
a huge wedge in relationship. It's like having a financial affair.
Many couples are very secretive about their income. They never share their actual take home and other perks, bonuses etc. Some partners overstate their salary to impress
their family and some may understate due to a variety of reasons.
It may be due to lack of trust or confidence in the partners ability to budget and manage finances, misplaced financial priorities of partners, to hide expenses or simply an ego
issue.
This problem gets more pronounced in business families where cash flow is not consistent month on month.

Start with discussing your financial goals, what you want to achieve in the immediate future and long-term financial plans. Write down when you want to make your big ticket
purchases, followed by planned holidays and other expenses in the next couple of years.
Planning your future lives together can be one of the most meaningful and important steps you can take as a couple to create a happy financial relationship.
Here are some questions to think about when you set financial goals together: 
Have you shared your income details and made a Budget?
Have you shared the details of debt and other fixed obligations that you have and plans to
repay that?
Have you saved enough to cover at least six-month expenses in case of any emergency,
safely parked in a liquid fund, which is readily available to meet any contingency?
Have you got sufficient health cover and Term insurance to meet any eventuality?
Have you discussed where you want to be financially in 5 years, 10 years and 20 years?
Have you planned for your retirement, where do you want to settle, how much money would
you require per month at present cost?
Have you discussed the funding of your children's education?
What do you and your partner want for yourselves, your family and your community?
What is the financial impact of these goals? For example, if you desire to travel to Europe or
buy a luxury SUV in 3 years, how will you save for this goal?
Have you agreed upon a savings and investment strategy?

Another important aspect to ensure is to plan your nomination, legal heirs and write a will. All financial records should be documented, and your spouse should know their
whereabouts and whom to contact in case of any need or emergency. There are countless cases, where the sudden demise of a partner left the other partner totally lost in terms of their financial status and what to do next. There are numerous cases of life partners stuck in illiquid assets, legal issues, and in "cash poor" situation despite being "asset rich" finding it difficult to even meet their monthly expenses. This not only leads to uncertainty and legal complications, but at times, also to distress sale of assets at highly discounted rates thereby incurring huge losses.
Thus, it is imperative that your partner is aware of all financial details, the paperwork is in order and all nominations are in place. Proper estate planning is not only important but also necessary for a "peaceful death" and a smooth transition to the next generation for the legacy to continue.
Marriage is a partnership. It's time to stop making money mistakes and find common ground. Sure, it's tricky to figure out how to not fight about money, but you can learn
how to discuss your finances in a more productive way.
There's no harm in bringing in a professional to help. I would strongly recommend that you consult with a financial adviser who can evaluate your current financial situation,
check your risk profile, help you plan your financial goals, recommend a suitable asset allocation, devise an investment strategy, sit with you and regularly review your
achievement of financial goals and suggest corrective steps where required. Make him your sounding board; let him give you an unbiased and non-emotional opinion on your financial strategy and bring financial discipline in your relationship and life.
I can't tell you what exactly makes love endure over time but working through your money issues will certainly give your relationship more staying power.
Valentine Day is a good day to start and maintain a healthy financial relationship with your partner.

Here is wishing that your Love keeps blossoming, you Live Richer and enjoy life.
Happy Valentine's Day ….
Happy Investing!
Sandeep Sahni

Kindly check our earlier blog on a similar subject : Investment Lessons from Mythology at https://sahayakgurukul.blogspot.com/2019/03/investment-lessons-from-mythology.html OR https://www.sahayakassociates.in/resources/our-blog/2553-sahayak-associates/sahayak-associates-blog/8435-investment-lessons-from-mythology 
Note: All information provided in this blog is for educational purposes only and does not constitute any professional advice or service. Readers are requested to consult a financial advisor before investing as investments are subject to Market Risks.About The author
About The author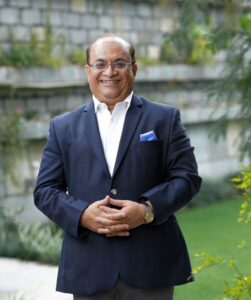 Sandeep Sahni
After completing his schooling from St. Johns, Chandigarh (Class of 1980) and Modern School, New Delhi, (Class of 1982) Sandeep did his B. Com (Hons.) from Shri Ram College of Commerce, Delhi University (Class of 1985)
Sandeep is an alum of IIM Lucknow with a Post Graduate Degree (MBA class of 1988).
He has also written two books, 'Dear Son, Life Lessons from a Father'on the teachings of Life https://www.amazon.in/dp/1637815271 and the Second book which he has Co Authored titled, 'What My MBA Didn't teach me about Money' on the Human and Financial perspective of money. https://www.amazon.in/dp/1637816502
He has a rich work experience and started his career as a corporate man with Asian Paints after IIML. He has a rich experience covering the FMCG, Food Distribution, Cold Chain, Logistics, and Hospitality Industries. He is currently in the Wealth Management and Personal Finance domain. He has a passion for finance and is an active speaker on topics in finance. The stories he narrates strike a chord close to his heart, as they are based on events from his own life. He believes in a holistic view of Personal Finance.
Sandeep's investing experience and study of the Financial Markets spans over 30 years. He is based in Chandigarh and is advising more than 500 clients across the globe on Financial Planning and Wealth Management.
He has promoted "Sahayak Gurukul" which is an attempt to share thoughts and knowledge on aspects related to Personal Finance and Wealth Management. Sahayak Gurukul provides financial insights into the markets, economy and Investments. Whether you are new to the personal finance domain or a professional looking to make your money work for you, the Sahayak Gurukul blogs and workshops are curated to demystify investing, simplify complex personal finance topics and help investors make better decisions about their money.
Alongside, Sandeep conducts regular Investor Awareness Programs and workshops for Training of Mutual Fund Distributors, and workshops and seminars on Financial Planning for Corporate groups, Teachers, Doctors and Other professionals.
Through his interactions and workshops, Sandeep works towards breaking the myths and illusions about money and finance.
His passion has driven him towards career counselling for young adults and mentoring the youngsters on achieving their life goals and becoming "Successful Humans"
He also writes a well-read blog; https://sahayakgurukul.blogspot.com
He has also conducted presentations, workshops and guest lectures at professional colleges and management institutes for students on Financial Planning and Wealth Creation.
He can be reached at:
+91-9888220088, 9814112988,
sandeepsahni@sahayakassociates.in
Follow on:
www.sahayakassociates.in,
www.facebook.com/sahayakassociates,
www.twitter.com/sahayakassociat,https://www.instagram.com/sahayakassociates/
https://sahayakgurukul.blogspot.com, https://www.sahayakassociates.in/resources/our-blog