This has been the most debated topic across media of late and especially amongst the investment community. The ingredients are definitely there – A war in Europe, geopolitical risk, liquidity tightening, hawkish central banks, commodity prices shooting, oil at $135 a barrel, sanctions, bans on trade and China going into another set of lockdowns.
Investors were the most scared, 'are we in for another round of corrections and a Bear market?'
There's always something to fear that will possibly derail the market — Geopolitical risks, Wars, natural disasters, Black Swan events, profit margins, valuations, earnings shortfalls, economic growth, rising/falling interest rates, inflation/deflation, and we can keep adding to the list.
The problem is sometimes stocks rise and fall for no apparent reason whatsoever. You may label it sentiment or expectations or by whatever name but the markets can be highly irrational in the short term but are generally the slave of earnings in the long term. At the end of the day, the valuations can only be a multiple of corporate earnings and as long as GDP is growing and corporate profits are rising, markets will remain in upward trajectory. In the short term, sentiment, macros, liquidity etc may impact the trajectory but in the long term only earnings and the expectation of earnings matter and the same will be reflected in the index movement.
So the key question then is, how to estimate earnings and future earnings. There are two ways, one is the path of mathematical models, projected earnings, intrinsic values, the ratios and so on. The other is to check the story behind the earnings and see what is happening on the street.
For the purpose of this article, let us just concentrate on the story and let me illustrate it with some small anecdotes on how the economy is shaping and the path ahead.
I had to plan a visit recently to Delhi; all flights were booked and what were available were at 2to 2.5X the price some months ago, Shatabdi Tickets were not available, I Enjoyed Hotel stays for the last two years at less than 4K inclusive of Breakfast and taxes, the same hotels were now available at more than 10K. Driving by road, all roadside eateries (You can't possibly  call the plush airconditioned places 'Dhabas' anymore) were packed and there was an average of 10 minutes waiting time at the tolls.
During a visit to a mall, Even on a weekday and without any 'Sale' or offers of any kind, I could see buyers carrying shopping bags full of goodies. In the evening, a friend took me to a place, an open air hangout, which had the BYOB policy (Bring your Own Booze/Bottle for the uninitiated) and it had close to a 1000 people.
Back home, a friend called and asked me to use my contacts and get him the latest SUV model of a popular brand and he was willing to shell out a close to 15% premium on the price. The latest gadgets are not available, trying for a bargain for a new Ac, my supplier told me, "Boss, forget the bargain, just take delivery in case it is available, there is a long waiting list due to an early onset and expectation of extended summer."
I attended a wedding recently and realised that the 'Big fat Punjabi Wedding' was truly back with a bang. Liquor being served had been upgraded to an aged malt and premium brands of spirits, The initial check of the buffet spread tired me out as I lost count of no of dishes and cuisines and my wife rushed me back to the dance floor where the latest Singing sensation was belting out our favourite Rap numbers live. While leaving we had to wait in a line as the valet took his time getting our beaten jalopy as he was busy with the luxury sedans of the big tippers.
Back in office the next day, and my favourite investor called and asked me,"Give me your honest opinion – Are we staring at a Recession, Where do you think is the market headed?"
Not to disappoint her, I gave my standard reply, "Only two people can predict the market in the short term, One is God and the second is liar who has been lucky and has just flipped the coin right."
Then I shared some numbers with her. GST collections are at a record high, our exports are booming, we did 500 cr UPI transactions in March, we are buying oil at a discount from Russia, the govt PLI scheme is giving a boost to manufacturing, Zeta became the 14th Unicorn and our Unicorn numbers have crossed 100, the biggest company is announcing a deal a week across its verticals and all the other positives.
Despite all this she asked, "but when will it bottom out, when should we start buying and put our money in the markets."
And I was immediately reminded of the famous quote of Peter Lynch, the Investment Guru and author of what I consider the Bibles of Investing,
"Far more money has been lost by investors preparing for corrections, or trying to anticipate corrections, than has been lost in corrections themselves."
I recently came across an old Peter Lynch interview from the mid-1990s. In it the legendary former mutual fund manager discusses a wide range of topics from how he started in this business, the crash of 1987, the psychology of average investors, to losses in the markets.
Lynch's thoughts on losses in the stock market are still relevant today:
"Now no one seems to know when they are gonna happen. At least if they know about 'em, they're not telling anybody about 'em. I don't remember anybody predicting the market right more than once, and they predict a lot. So they're gonna happen. If you're in the market, you have to know there's going to be declines. And they're going to cap and every couple of years you're going to get a 10 percent correction. That's a euphemism for losing a lot of money rapidly. That's what a "correction" is called. And a bear market is 20-25-30 percent decline.
They're gonna happen. When they're gonna start, no one knows. If you're not ready for that, you shouldn't be in the stock market. I mean the stomach is the key organ here. It's not the brain. Do you have the stomach for these kinds of declines? And what's your timing like? Is your horizon one year? Is your horizon ten years or 20 years?
What the market's going to do in one or two years, you don't know."
The most important point here is that no one knows when or why corrections happen. Investors are continually searching for reasons for stocks to fall. It almost becomes a game for some to say that they can predict the exact event that does it.
I wish I had the secret sauce for picking a bottom but even if there was some formula it would eventually stop working once enough people learned of it.
Meanwhile, what we suggest is, 'Invest if you have the money and redeem if you need the money.'
Happy Investing!
Kindly check our earlier blog on a similar subject : Investment Lessons from Mythology at https://sahayakgurukul.blogspot.com/2019/03/investment-lessons-from-mythology.html OR https://www.sahayakassociates.in/resources/our-blog/2553-sahayak-associates/sahayak-associates-blog/8435-investment-lessons-from-mythology 
Note: All information provided in this blog is for educational purposes only and does not constitute any professional advice or service. Readers are requested to consult a financial advisor before investing as investments are subject to Market Risks. 
About The author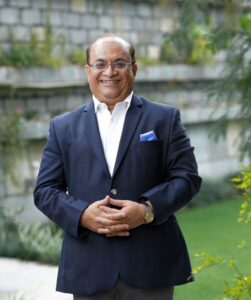 Sandeep Sahni
After completing his schooling from St. Johns, Chandigarh (Class of 1980) and Modern School, New Delhi, (Class of 1982) Sandeep did his B. Com (Hons.) from Shri Ram College of Commerce, Delhi University (Class of 1985)
Sandeep is an alum of IIM Lucknow with a Post Graduate Degree (MBA class of 1988).
He has also written two books, 'Dear Son, Life Lessons from a Father' on the teachings of Life https://www.amazon.in/dp/1637815271 and the Second book which he has Co Authored titled, 'What My MBA Didn't teach me about Money' on the Human and Financial perspective of money. https://www.amazon.in/dp/1637816502
He has a rich work experience and started his career as a corporate man with Asian Paints after IIML. He has a rich experience covering the FMCG, Food Distribution, Cold Chain, Logistics, and Hospitality Industries. He is currently in the Wealth Management and Personal Finance domain. He has a passion for finance and is an active speaker on topics in finance. The stories he narrates strike a chord close to his heart, as they are based on events from his own life. He believes in a holistic view of Personal Finance.
Sandeep's investing experience and study of the Financial Markets spans over 30 years. He is based in Chandigarh and is advising more than 500 clients across the globe on Financial Planning and Wealth Management.
He has promoted "Sahayak Gurukul" which is an attempt to share thoughts and knowledge on aspects related to Personal Finance and Wealth Management. Sahayak Gurukul provides financial insights into the markets, economy and Investments. Whether you are new to the personal finance domain or a professional looking to make your money work for you, the Sahayak Gurukul blogs and workshops are curated to demystify investing, simplify complex personal finance topics and help investors make better decisions about their money.
Alongside, Sandeep conducts regular Investor Awareness Programs and workshops for Training of Mutual Fund Distributors, and workshops and seminars on Financial Planning for Corporate groups, Teachers, Doctors and Other professionals.
Through his interactions and workshops, Sandeep works towards breaking the myths and illusions about money and finance.
His passion has driven him towards career counselling for young adults and mentoring the youngsters on achieving their life goals and becoming "Successful Humans"
He also writes a well-read blog; https://sahayakgurukul.blogspot.com
He has also conducted presentations, workshops and guest lectures at professional colleges and management institutes for students on Financial Planning and Wealth Creation.
He can be reached at:
+91-9888220088, 9814112988,
sandeepsahni@sahayakassociates.in
Follow on:
www.sahayakassociates.in,
www.facebook.com/sahayakassociates,
www.twitter.com/sahayakassociat,https://www.instagram.com/sahayakassociates/
https://sahayakgurukul.blogspot.com, https://www.sahayakassociates.in/resources/our-blog