In Sanskrit, the word akshaya (अक्षय्य) means "never decreasing" in the sense of "prosperity, hope, joy, success",
while tritiya means "third phase of the moon".
It is named after the third lunar day of the spring month of Vaisakha in the Hindu calendar, when it is observed.
Often touted as 'Akha Teej', Akshaya Tritiya is considered as one of the auspicious days in the Hindu calendar.
Celebrated with great devotion and ardour, the religious occasion marks the birth of Lord Parasurama.
There are many lores & legends associated with this day.
One of the stories is that, on this day the Ganges came to Earth to purify mankind.
It is also associated with two instances of Lord Krishna.
Akshaya Tritiya commemorates the day the Pandavas while in exile received an Akshaya Patra from Lord Krishna.
This ensured an endless supply of food for them.
This is also the day when Sudama recieved his unlimited blessings & gifts from his friend, Lord Krishna.
It is also believed that Lord Kubera recieved his wealth and position as the custodian of wealth on this day.
Goddess Annapoorna, the Goddess of Food & nourishment also appeared on this day and set up her eternal kitchen at Kashi.
People celebrate this day in the hope that their Wealth too will multiply during the year and their prosperity will never end.
It is thus believed that the festival of Akshaya Tritiya brings good fortune and success.
The entire day of Akshaya Tritiya is considered fruitful to invest in gold, silver and other investments.
Wish your wealth too multiplies manifold and God grants and blesses you with an 'Akshya Patra.'
HAPPY AKSHAYA TRITIYA
Team Sahayak
Happy Investing!
Kindly check our earlier blog on a similar subject : Investment Lessons from Mythology at https://sahayakgurukul.blogspot.com/2019/03/investment-lessons-from-mythology.html OR https://www.sahayakassociates.in/resources/our-blog/2553-sahayak-associates/sahayak-associates-blog/8435-investment-lessons-from-mythology 
Note: All information provided in this blog is for educational purposes only and does not constitute any professional advice or service. Readers are requested to consult a financial advisor before investing as investments are subject to Market Risks. 
About The author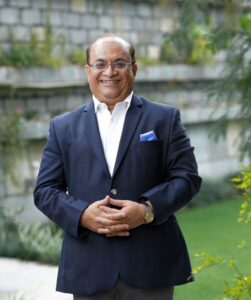 Sandeep Sahni
After completing his schooling from St. Johns, Chandigarh (Class of 1980) and Modern School, New Delhi, (Class of 1982) Sandeep did his B. Com (Hons.) from Shri Ram College of Commerce, Delhi University (Class of 1985)
Sandeep is an alum of IIM Lucknow with a Post Graduate Degree (MBA class of 1988).
He has also written two books, 'Dear Son, Life Lessons from a Father' on the teachings of Life https://www.amazon.in/dp/1637815271 and the Second book which he has Co Authored titled, 'What My MBA Didn't teach me about Money' on the Human and Financial perspective of money. https://www.amazon.in/dp/1637816502
He has a rich work experience and started his career as a corporate man with Asian Paints after IIML. He has a rich experience covering the FMCG, Food Distribution, Cold Chain, Logistics, and Hospitality Industries. He is currently in the Wealth Management and Personal Finance domain. He has a passion for finance and is an active speaker on topics in finance. The stories he narrates strike a chord close to his heart, as they are based on events from his own life. He believes in a holistic view of Personal Finance.
Sandeep's investing experience and study of the Financial Markets spans over 30 years. He is based in Chandigarh and is advising more than 500 clients across the globe on Financial Planning and Wealth Management.
He has promoted "Sahayak Gurukul" which is an attempt to share thoughts and knowledge on aspects related to Personal Finance and Wealth Management. Sahayak Gurukul provides financial insights into the markets, economy and Investments. Whether you are new to the personal finance domain or a professional looking to make your money work for you, the Sahayak Gurukul blogs and workshops are curated to demystify investing, simplify complex personal finance topics and help investors make better decisions about their money.
Alongside, Sandeep conducts regular Investor Awareness Programs and workshops for Training of Mutual Fund Distributors, and workshops and seminars on Financial Planning for Corporate groups, Teachers, Doctors and Other professionals.
Through his interactions and workshops, Sandeep works towards breaking the myths and illusions about money and finance.
His passion has driven him towards career counselling for young adults and mentoring the youngsters on achieving their life goals and becoming "Successful Humans"
He also writes a well-read blog; https://sahayakgurukul.blogspot.com
He has also conducted presentations, workshops and guest lectures at professional colleges and management institutes for students on Financial Planning and Wealth Creation.
He can be reached at:
+91-9888220088, 9814112988,
sandeepsahni@sahayakassociates.in
Follow on:
www.sahayakassociates.in,
www.facebook.com/sahayakassociates,
www.twitter.com/sahayakassociat,https://www.instagram.com/sahayakassociates/
https://sahayakgurukul.blogspot.com, https://www.sahayakassociates.in/resources/our-blog