Children are parents' treasure and their most precious gift.
"The Joys of parents are secret; and so are their grief and fears. They cannot utter the one; nor they will not utter the other" wrote Francis Bacon, in the sixteenth century, in his essay on "On Parents and Children"
There comes a time in your life when the success of your children somehow becomes paramount. 
The best gift we can give our children is Roots and Wings. We give them Roots through good values, and wings through making them dream, and giving them the financial freedom to live their dreams. As parents we need to provide for fulfilling the children's aspirations, their dreams and giving them the freedom of choice, to follow what their heart desires.
Most parents plan for their children, especially for the Child's Undergraduate and Post Graduate education, and marriage or a startup / Business venture.
According to the HSBC Value of Education Survey 2018, Nearly 61% of parents wished they had started saving earlier for the goals. As per another study, the 2017 Birla Sun Life Insurance Company Protection Survey, saving for kids' education was the top worry for nearly 35% of the 1,540 respondents. 
Parents want their children to have a better life than theirs and according to most parents; education is the foundation for a better life. However, the rate of inflation in education has been one of the highest in recent times. 
I passed out of the best convent school in the region, more than 40 years ago and my annual fees was less than Rs 500 per year and some years back, when my son finished his schooling from the same school his fees was more than Rs 50000 per year, an increase of more than 100 times. In addition, the cost of tuitions and coaching classes, something unheard of in our times, have not been taken into account, which is equivalent to the school fees currently, if not more.
For my Post Graduation at a leading management institute, 30 years ago, my total expense including living expense, travel etc for a 2 year program was less than Rs 50000 and today it will be close to Rs 5 Million, an increase of more than 100 times once again.
While planning for your Child's education, kindly keep the following in mind:
We always recommend Goal based investing for children's education and other goals.
a)Don't put a Numerical Figure on the various costs:
b)  Underestimate the impact of inflation and cost of education



c) Delay the planning and start of the investment
d)   Confuse saving with investment and thus miss out on power of compounding
e)Putting money in the wrong asset class and not rebalancing based on years to goal.
The different asset classes available today in the market are as follows and should be reallocated and re balanced based on various parameters like time horizon (Years to Goal), amount required for goal achievement, risk taking ability etc.
f)Being scared of Equity and mutual funds due to its volatility without understanding the investment in Mutual Funds.
There are different types of mutual funds available which are suitable for different time horizons and risk appetite.


g)Underestimate the Childs Dreams
This Childrens Day, Plan for your Childs bright future.



Consult your Financial advisor, Start Early, decide on the current cost, factor in the inflation, determine the asset allocation, review periodically, increase your investment every year with increase in income
and Let your Childs dreams come true.
And Finally, shall like to end with a quote from Warren Buffet, the legendary investor, ""I want to give my kids enough so that they feel that they can do anything but not so much that they could do nothing."
Happy Childrens Day!
Happy Investing!
 Stay Blessed Forever
 Sandeep Sahni
Kindly check our earlier blog on a similar subject : Investment Lessons from Mythology at https://sahayakgurukul.blogspot.com/2019/03/investment-lessons-from-mythology.html OR https://www.sahayakassociates.in/resources/our-blog/2553-sahayak-associates/sahayak-associates-blog/8435-investment-lessons-from-mythology 
Note: All information provided in this blog is for educational purposes only and does not constitute any professional advice or service. Readers are requested to consult a financial advisor before investing as investments are subject to Market Risks.About The author
About The author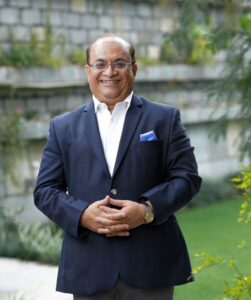 Sandeep Sahni
After completing his schooling from St. Johns, Chandigarh (Class of 1980) and Modern School, New Delhi, (Class of 1982) Sandeep did his B. Com (Hons.) from Shri Ram College of Commerce, Delhi University (Class of 1985)
Sandeep is an alum of IIM Lucknow with a Post Graduate Degree (MBA class of 1988).
He has also written two books, 'Dear Son, Life Lessons from a Father'on the teachings of Life https://www.amazon.in/dp/1637815271 and the Second book which he has Co Authored titled, 'What My MBA Didn't teach me about Money' on the Human and Financial perspective of money. https://www.amazon.in/dp/1637816502
He has a rich work experience and started his career as a corporate man with Asian Paints after IIML. He has a rich experience covering the FMCG, Food Distribution, Cold Chain, Logistics, and Hospitality Industries. He is currently in the Wealth Management and Personal Finance domain. He has a passion for finance and is an active speaker on topics in finance. The stories he narrates strike a chord close to his heart, as they are based on events from his own life. He believes in a holistic view of Personal Finance.
Sandeep's investing experience and study of the Financial Markets spans over 30 years. He is based in Chandigarh and is advising more than 500 clients across the globe on Financial Planning and Wealth Management.
He has promoted "Sahayak Gurukul" which is an attempt to share thoughts and knowledge on aspects related to Personal Finance and Wealth Management. Sahayak Gurukul provides financial insights into the markets, economy and Investments. Whether you are new to the personal finance domain or a professional looking to make your money work for you, the Sahayak Gurukul blogs and workshops are curated to demystify investing, simplify complex personal finance topics and help investors make better decisions about their money.
Alongside, Sandeep conducts regular Investor Awareness Programs and workshops for Training of Mutual Fund Distributors, and workshops and seminars on Financial Planning for Corporate groups, Teachers, Doctors and Other professionals.
Through his interactions and workshops, Sandeep works towards breaking the myths and illusions about money and finance.
His passion has driven him towards career counselling for young adults and mentoring the youngsters on achieving their life goals and becoming "Successful Humans"
He also writes a well-read blog; https://sahayakgurukul.blogspot.com
He has also conducted presentations, workshops and guest lectures at professional colleges and management institutes for students on Financial Planning and Wealth Creation.
He can be reached at:
+91-9888220088, 9814112988,
sandeepsahni@sahayakassociates.in
Follow on:
www.sahayakassociates.in,
www.facebook.com/sahayakassociates,
www.twitter.com/sahayakassociat,https://www.instagram.com/sahayakassociates/
https://sahayakgurukul.blogspot.com, https://www.sahayakassociates.in/resources/our-blog