"Pher aa gayi Bhangre d vari
Lohri manaun di karo taiyari,
Agg de kol saare aao.
Sundariye Mundariya jor naal gao!!
"Lohri is more than just a festival;
it is an expression of community togetherness, celebration of fertility and the joy of life.
Lohri holds more social significance than religious flavour.
Mark Twain said, "A year has 365 days, but India has 366 Festivals"
The concept of Universal Brotherhood encompasses all these festivals & the vibrant colors, warm hospitality & infectious buoyant spirit mark the celebration of our festivals.
Some festivals welcome the seasons of the year – the harvest, the rains etc, while others celebrate religious occasions, the birthdays of the divine beings, saints, & Gurus, or the full moon or the advent of the New Year.
Though most festivals have had religious origins, over the years they have acquired social & cultural significance. Every celebration centers around the rituals of prayer, seeking blessings, exchanging gifts and goodwill, decorating the house, wearing new clothes, music, dance & feasting.
Most of these occasions have a lot to teach us; they impart great financial lessons and tell us how we can learn and incorporate those lessons in our daily lives.
Makar Sankranti coincides with the day the Sun leaves the tropic of Cancer to move towards the tropic of Capricorn (called Makar in India).
Makara Sankranti is an auspicious day for Hindus, Even the mortally wounded Bhishma of Mahabharata, who had the boon to choose the time of his death, chose Makara Sankranti day to die. 
It is a day of great jubilation for farmers as it marks the end of the biting winters and the beginning of the new harvesting season. This day is therefore celebrated as a Thanksgiving for ending the harsh winters and a bountiful harvest.
Makar Sankranti traditions:
In Maharashtra, the "Til Gul" ( a sweet made of sesame seeds and jaggery) are prepared in homes to mark the harvest of the first sugarcane crop of the year (out of which jaggery is made).
 
In Gujarat Makar Sankranti is referred to as Uttarayan, and kites are flown to wake the Gods from their winter slumber and bless their harvest.
 
In West Bengal this festival is referred to as "Poush Sankranti" is celebrated as a harvest festival where a variety of sweets such as Pithey, Puli, Patisapta are made with freshly harvested rice flour and jiggery made out of date palms.
 
In Uttar Pradesh it is believed that taking a holy dip in the Ganges on this day will provide "Moksha" or salvation from sins.
 
Makar Sankranti is referred to as Pongal in Tamil Nadu and other South Indian states, where it is celebrated as a three day festival which include a whole lot of festivities.
 
Sankranti has a philosophical significance in India as well. The word Sankranti literally means 'movement', and it is the day for the human race to realise and be thankful for movement. If there was to be no movement within and without our bodies, we would all be dead! But just like yin and yang in China, the concept of movement must be contrasted and appreciated against the stillness.
Therefore, when we fly kites in the lap of the still skies, it is a reiteration of our thankfulness for this very movement! 
Indian traditions are also rooted deeply in science and so is the tradition of kite flying on Sankranti. When we fly kites on Sankranti, we expose ourselves to the rays of the Sun. On this day when the Sun begins its journey towards the other hemisphere, it is expected to be benevolent and emanate rays that have medicinal benefits.
Kites of different shapes, sizes, colours and texture vie in sky with each other to make a place for themselves and entangle in a pursuit to outdo the rest.
Like all festivals, Makar Sankranti also has some great financial lessons for us.
Get set for a flight: Kite without proper "Kanni"
Life is akin to kite flying, where you need to customise a kite as per your abilities, have the perfect manjha or string and set it to flight to soar above the rest when the wind is in your favour. If you don't take a proper kanni, it is like not setting any financial goal, not knowing which direction you need to go.
The use of 'manjha' while flying kites ; Selection of proper thread.
A 'manjha' is an abrasive string which is not just gummed and coloured, but also coated with powdered glass. This string and its strength are quintessential in the friendly combats that ensue during the festival.
Similarly, when it comes to investment, there are many ways in which you can make an investment. However, for you to win the investment combat, it is important to choose the right asset class based on your current financial condition, risk taking ability and your financial goal.
Your financial success largely depends on your manjha.
Decide on the size of your 'Charakhri' – quantity of thread
The next task is to decide how much thread will you need to reach your destination. You will also have to factor in the hiccups you are likely to encounter along the way.
This is something like deciding on the budget or the amount that you require to invest in lumpsum or SIPs to achieve your financial goals. 
Flying Kite in proper Direction.
You need to check the direction of wind and decide on which direction will you fly the kite so that it can soar high in the sky.
Similarly, you need to decide on the direction of your investment, the distance it needs to travel and the direction it needs to go to, so that all your goals can be achieved. 
      5.Keep your eyes on your kite:
When you are flying a kite, you cannot for a moment be careless and lose sight of how or in which direction your kite is flying.
Similarly, in financial planning you have to be vigilant of the course that your investments are taking and review your investments to see that your financial goals both short term and long term are being met.
While kite-flying, a moment of distraction could mean a 'katipatang'. Your investments are like your kite – you can control it; wind may cause disturbances but at the end you need to know how to make it soar. It is most important to continuously have an eye on your investments, to monitor and review your investment. 
Be flexible
While flying kites people shout out 'dheel de!' to their companions. It means when you are in the midst of a strong gust of wind you have to let go the string  and adapt to the situation.
Similarly, when it comes to an investment climate, things are not always perfect. You have to be patient and sometimes bear some temporary losses, but never lose sight of your vision of meeting your financial goals.
Deciding to give "dheel" or pull the Manjha is like deciding the strategy for your investment, when to be patient, when to add more, when to withdraw etc. 
Why does it take two people to fly one kite?
Even one person can fly a kite!
In a typical Makar Sankranti scenery, there are children on terraces, with the number of children twice as much as the number of kites hovering. Typically, while one takes charge to maneuver the kite against gusty winds and other rival kites, the other child's entire role is to ensure that he releases and retracts just the right amount of thread required for the kite to soar.
While one person can manage both, he can only fly a kite and not take it to higher horizons.
Similarly, an advisor's job is to guide you through gusty winds. Your advisor and you are a team on a mission to make your investment kite touch new highs.
Now that you have the perspective and insight into the kite-festival, it is time for you to go out and conquer the skies!
Financial planning is not just about making a plan and keeping it static. You need to keep reviewing it. Armed with proper resources and research of the markets, you need to seize the opportunities that arise in the economic environment to enhance your portfolio
Celebrate Life. Any excuse to celebrate is good, the nature of the spirit is celebration. Let your body, mind and the spirit rejoice and get lost in festivity of this wonderful festival.
Keep investing and keep smiling, Celebrate life! That is the essence of Makar Sankranti.
Have a Great & profitable Investment year ahead!
Happy Investing!
Sandeep Sahni

Kindly check our earlier blog on a similar subject : Investment Lessons from Mythology at https://sahayakgurukul.blogspot.com/2019/03/investment-lessons-from-mythology.html OR https://www.sahayakassociates.in/resources/our-blog/2553-sahayak-associates/sahayak-associates-blog/8435-investment-lessons-from-mythology 
Note: All information provided in this blog is for educational purposes only and does not constitute any professional advice or service. Readers are requested to consult a financial advisor before investing as investments are subject to Market Risks.About The author
About The author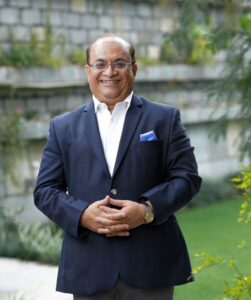 Sandeep Sahni
After completing his schooling from St. Johns, Chandigarh (Class of 1980) and Modern School, New Delhi, (Class of 1982) Sandeep did his B. Com (Hons.) from Shri Ram College of Commerce, Delhi University (Class of 1985)
Sandeep is an alum of IIM Lucknow with a Post Graduate Degree (MBA class of 1988).
He has also written two books, 'Dear Son, Life Lessons from a Father'on the teachings of Life https://www.amazon.in/dp/1637815271 and the Second book which he has Co Authored titled, 'What My MBA Didn't teach me about Money' on the Human and Financial perspective of money. https://www.amazon.in/dp/1637816502
He has a rich work experience and started his career as a corporate man with Asian Paints after IIML. He has a rich experience covering the FMCG, Food Distribution, Cold Chain, Logistics, and Hospitality Industries. He is currently in the Wealth Management and Personal Finance domain. He has a passion for finance and is an active speaker on topics in finance. The stories he narrates strike a chord close to his heart, as they are based on events from his own life. He believes in a holistic view of Personal Finance.
Sandeep's investing experience and study of the Financial Markets spans over 30 years. He is based in Chandigarh and is advising more than 500 clients across the globe on Financial Planning and Wealth Management.
He has promoted "Sahayak Gurukul" which is an attempt to share thoughts and knowledge on aspects related to Personal Finance and Wealth Management. Sahayak Gurukul provides financial insights into the markets, economy and Investments. Whether you are new to the personal finance domain or a professional looking to make your money work for you, the Sahayak Gurukul blogs and workshops are curated to demystify investing, simplify complex personal finance topics and help investors make better decisions about their money.
Alongside, Sandeep conducts regular Investor Awareness Programs and workshops for Training of Mutual Fund Distributors, and workshops and seminars on Financial Planning for Corporate groups, Teachers, Doctors and Other professionals.
Through his interactions and workshops, Sandeep works towards breaking the myths and illusions about money and finance.
His passion has driven him towards career counselling for young adults and mentoring the youngsters on achieving their life goals and becoming "Successful Humans"
He also writes a well-read blog; https://sahayakgurukul.blogspot.com
He has also conducted presentations, workshops and guest lectures at professional colleges and management institutes for students on Financial Planning and Wealth Creation.
He can be reached at:
+91-9888220088, 9814112988,
sandeepsahni@sahayakassociates.in
Follow on:
www.sahayakassociates.in,
www.facebook.com/sahayakassociates,
www.twitter.com/sahayakassociat,https://www.instagram.com/sahayakassociates/
https://sahayakgurukul.blogspot.com, https://www.sahayakassociates.in/resources/our-blog