Let's  talk about Reliance and the company's first-ever online-only Annual General Meeting (AGM) held on 15th July and how Reliance is ready to  move to another trajectory.
The first virtual annual general meeting was held on its in-house JioMeet platform and broadcast across social media including Facebook, Twitter and YouTube. The 43rd AGM was attended live by 310,000 shareholders from more than 460 cities in 41 countries.What could be more, The poster boys of the tech world – Sundar Pichai and Mark Zuckerberg – also addressed the AGM.
We all knew that Reliance is Big, but how big and its growing contribution to the Indian Economy is illustrated below. Just for a reference, if Reliance would have been a country, it would have been the 58th Largest country in the world.
The contribution of Reliance to the Indian Economy is also huge and noteworthy. The Reliance share has a weightage of more than 15% in the NIFTY Index now and any movement in the Reliance share has an immediate and direct impact on NIFTY movement. GST and VAT paid by Reliance amounted to more than Rs 65000 crores in 2019-20.
The AGM started with a major announcement(though somewhat expected)— A massive investment from Google as part of its India Digitization Fund. The search giant was buying a stake of 7.7% by paying close to $4.4 Billion, into the Jio dream.
Google isn't just bringing the cash. It's bringing a whole lot more to the table.
As Google CEO Sundar Pichai said:
Google and Jio Platforms have entered into a commercial agreement to jointly develop an entry-level affordable smartphone with optimizations to the Android operating system and the Play Store. Together we are excited to rethink, from the ground up, how millions of users in India can become owners of smartphones.
This is an attempt to drive smartphone penetration in the country. It's an attempt to build a phone that could potentially unlock new opportunities and boost data consumption. A regular Android smartphone may not work for rural consumers as they have different aspirations and needs.
For instance, rural consumers are more likely to use UC Web Browser because it employs complex compression techniques and loads web content faster whilst using less data. They use websites like SongsPK to download music for free since streaming doesn't work well on 2G connections. They still use feature phones because even the most affordable smartphones  are too expensive for them.
So if JIO really wants to create a "2G Mukt Bharat", it has to reinvent the smartphone, including the operating system that powers it and thus Google is quintessential to this cause.
Also, this strategic partnership isn't just limited to Google. Facebook was offered a similar discount for bringing WhatsApp into the equation and pairing it with JioMart.
For the uninitiated, JioMart is an ambitious project — the likes of which you've probably never seen before. With JioMart, Reliance wants to connect thousands of Kirana stores to the Internet. They want them to accept orders online, fulfill them, and cater to a much larger audience. Now obviously you could just build an app and force consumers and store owners to transact on this new platform. But that would be a sub-optimal solution. Instead, if you introduce something more familiar, you could increase adoption and engagement rates almost instantaneously.
Familiarity breeds attraction. People take an instant liking to something they already know. It's called the "Mere Exposure Effect" — a psychological phenomenon where people tend to develop a preference for things merely because they are familiar with them. So if Jio was looking to introduce new products and wade into uncharted territories, it would be better off piggybacking on something more familiar. Something like WhatsApp!
After all, there aren't a lot of applications that are more ubiquitous and intuitive than WhatsApp, right? So if people could buy groceries off their local Kirana stores using the app, that would be a game-changer.
As an article in "The Drum" notes —
For the longest time, Indian e-commerce has largely been dominated by Amazon and Walmart-backed Flipkart, which controls just over 62% of the market split almost evenly. Now, the Facebook-Jio partnership introduces a formidable third force into the mix. In the long run, this alliance will counter the growth of Amazon and Flipkart, but it could completely disrupt the way e-commerce is run in the world's largest democracy.

Jio also can seamlessly integrate its fintech offerings, with partner Google Pay, to capture transactions as well. Although there are competing businesses at various points on this value-chain, no other company is present end-to-end in this fashion, anywhere in the world. This would make Jio Platforms a unique entity. It's worth noting that every separate node on the digital value chain is in itself high-growth, and also the sum would be greater than the parts. Apart from the multiple revenue streams, the data generated by this end-to-end presence will be incredibly valuable. Enabling rural Indian commerce means both Jio and Facebook will have unparalleled insights into purchasing habits, needs and challenges of an entirely new consumer class, the world of e-commerce has known least about until now.
This data in itself will likely help Jio gain market share at every node on the digital chain, as it can start to micro-target subscribers.
There was also another big promise — Jio 5G
5G – The way Forward and why Reliance is betting on it..
Five years from now, almost everything we touch will rely completely on 5G technology.
It will be 'built-in' to self-driving car, smart refrigerators, laptops, virtual reality headsets, glasses, maybe even your toothbrush!
In fact, by 2022, according to telecommunications firm Ericsson this technology will connect an estimated 29 billion devices, But even more impressive are the never-before-seen heights that 5G will allow our society to soar to – accomplishing feats that we would've previously thought were   absolutely impossible.
For example,  "a doctor performing remote brain surgery from across the world."- a Chinese neurosurgeon just made history by successfully operating on the brain of a man with Parkinson's disease – from more than 3,000 kilometres away.
Maybe this just sounds like a scene straight out of a sci-fi novel but most people find it hard to believe, but this miraculous story is merely one of hundreds, if not thousands, of examples demonstrating the incredible power of this seemingly impossible technology.
Just take a second to imagine a world where 5G will…
Enable world-renowned surgeonsto perform life-saving remote surgeries on people in need from across the world.
Power self-driving vehiclesto drop your child off safe and sound at school while you work away at the office.
Energize smart cities of the futureto eliminate traffic, reduce fatalities from natural disaster and create a significantly better quality of life for its citizens.
The truth is, we're closer than ever before to seeing futuristic scenes like these turn from far-fetched fantasies into realities.
And all of these incredible accomplishments will be single-handedly made possible by using this one, world-altering technology. 5 G
As it turns out, we are not the only one seeing it this way; Some of the wealthiest CEOs in the industry all agree on the extraordinary effect that 5G will have on the world…
 "It will have the same impact as electricity, silicon, and steam had in the previous industrial revolutions." ÅsaTamsons, Senior Vice President at Ericsson
"5G will have an impact similar to the introduction of electricity or the car, affecting entire economies and benefiting entire societies." Steve Mollenkopf, CEO of Qualcomm
"5G is way more than just a step up from current wireless technology. It's a quantum leap that will bring an era of radically new possibilities across all areas of technology." Hans Vestberg, CEO of Verizon
"5G will be a major technology in immersive gaming, autonomous driving, remote robotic surgery, and augmented reality. It's quite clear that the race is heating up in North America." BorjeEkholm, CEO of Ericsson
 "5G is a bit like if we were sitting here in the mid-90s and somebody cooked up this new thing that is now known as the Internet. 5G is a massive accelerator on all things that are going on in technology." Michael Dell
 These business titans and industry experts all agree hands-down that the effects of 5G will be very soon felt around the world.Essentially 5G is the missing link that will power the "Internet of Things (IoT)" – which means artificial intelligence, self-driving vehicles, remote medicine, virtual reality, smart cities, and much more and each of these technologies sure to change the world.
As per latest studies, each of these industries are projected to be worth:
Artificial Intelligence, worth $13 trillionby 2030
Self-Driving Cars, worth $556 billionby 2026
Virtual Reality, worth $192 billionby 2022
Smart Cities, worth $2.5 trillionby 2025
Remote Medicine, worth $117 billionby 2020
Experts have confirmed that 5G will be the key driver of these multi-billion, and even multitrillion-dollar industries.
So anyone who sees 5G as some sort of marketing ploy from cell phone companies or as simply a "faster 4G" will be sorely mistaken, Because a landmark study by Qualcomm projects that this new development will be the key driver of an estimated $12.3 TRILLION industry by 2035.
So while 5G will no doubt impact all of our lives in ways we can't even fully imagine yet.
Reliance is leveraging the technological change of buildinga ´virtualised 5G network´ which would see the current hardwaredependent networks shift to softwarecentric platforms.
In simple terms, current networks are based on proprietary technology where both hardware and software have to be bought from the same vendor who also maintains and upgrades the system, leaving operators with limited flexibility and choice.
The new networks being developed will be built on open platforms, with operators having the choice of buying hardware or software separately from different vendors or even building the latter on their own on an open platform.
Alternatively, they could ally with IT companies to undertake system integration between the hardware and software and run the networks.
Apart from the flexibility, this will bring down network costs substantially for 5G. According to software company Mavenir, the new virtualised networks will lead toasaving of 40 per cent in capex and 34 per cent in terms of lower operational costs for operators.
If Reliance can execute its vision and provide a credible alternative to incumbent global players such as European giants Ericsson and Nokia, Chinese players Huawei and ZTE and  Rakuten in Japan, 5G alone can be a game changer.
Just consider the kind of value addition it can bring to the company.
Hence, with Reliance announcing that its ready to launch with its 5G framework and also to export it to other markets, there is not much reason left to wonder why the Biggies of the Tech world are partnering with JIO.
Jio TV+
This is another ambitious project to aggregate multiple content platforms on Jio's Set Top Box — Netflix, Amazon Prime Video, Disney+Hotstar, EROS Now, YouTube, and many more. All your favourite streaming platforms in one place available with a single login. But if Reliance can make the likes of Netflix and Prime Video more accessible, it will also do wonders for the content ecosystem in the country.
Besides this, there were other important announcements :
There was Jio Glass — A mixed reality headset that you can use to video call, share presentations, and conduct holographic classes.
There was also that initiative around virtual classrooms — A platform that will include video lectures, study material, personalized lessons, tests, practice sessions all weaved into one seamless experience.
And some exclusive new details about JioHealthHub — a platform that provides end-to-end healthcare services including online video consultation with doctors, lab tests, etc. Like Practo.
It's hard to overstate Jio's contribution to India's growth story. They've single-handedly altered the digital landscape in this country and in all likelihood will continue to shape it for many years to come. But as Reliance begins to shape-shift and metamorphosize, they are starting to dwarf competition and subsume entire industries. They are prepping for war with incumbents on both fronts — digital and offline, and they are doing it at a pace that belies all expectations.
However, with the proposed spinoff of the oil and chemical divisions into a separate company, the group looks well on its way to achieving much higher growth in the digital and retail segments, which means the dependence on cash-flows from oil will also be reduced. Valuations could rise for all the verticals as they become independent entities and are listed separately, since investors assign higher valuations to focussed businesses than to conglomerates with disparate divisions. Markets analysts are already talking about a Rs 30 Trillion SOTP(Sum of the Parts) Valuation of Reliance in the next three years as compared to Rs 12 Trillion market cap at present.
Mukesh Ambani's ambition is to turn RIL into a technology powerhouse, with zero net carbon footprint, in the next decade. As a technology and consumer company, RIL has built three hyper-growth engines. Retail new commerce business, oil to chemicals and Jio Platforms are the three businesses that Ambani looks to build RIL's future on.
If its consumer-facing businesses such as retail and Jio made the company transition to RIL2.0, the digital initiative is now leading to RIL 3.0. In the next three years, Jio is targeting to connect half a billion mobile customers, a billion smart sensors and 50 million home and business establishments.
The steady implementation of this ambitious game plan will not only transform Reliance but also help realise the dream of a truly Digital India.
Happy Investing!
Stay Blessed Forever
Sandeep Sahni

Kindly check our earlier blog on a similar subject : Investment Lessons from Mythology at https://sahayakgurukul.blogspot.com/2019/03/investment-lessons-from-mythology.html OR https://www.sahayakassociates.in/resources/our-blog/2553-sahayak-associates/sahayak-associates-blog/8435-investment-lessons-from-mythology 
Note: All information provided in this blog is for educational purposes only and does not constitute any professional advice or service. Readers are requested to consult a financial advisor before investing as investments are subject to Market Risks.About The author
About The author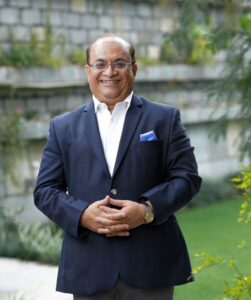 Sandeep Sahni
After completing his schooling from St. Johns, Chandigarh (Class of 1980) and Modern School, New Delhi, (Class of 1982) Sandeep did his B. Com (Hons.) from Shri Ram College of Commerce, Delhi University (Class of 1985)
Sandeep is an alum of IIM Lucknow with a Post Graduate Degree (MBA class of 1988).
He has also written two books, 'Dear Son, Life Lessons from a Father'on the teachings of Life https://www.amazon.in/dp/1637815271 and the Second book which he has Co Authored titled, 'What My MBA Didn't teach me about Money' on the Human and Financial perspective of money. https://www.amazon.in/dp/1637816502
He has a rich work experience and started his career as a corporate man with Asian Paints after IIML. He has a rich experience covering the FMCG, Food Distribution, Cold Chain, Logistics, and Hospitality Industries. He is currently in the Wealth Management and Personal Finance domain. He has a passion for finance and is an active speaker on topics in finance. The stories he narrates strike a chord close to his heart, as they are based on events from his own life. He believes in a holistic view of Personal Finance.
Sandeep's investing experience and study of the Financial Markets spans over 30 years. He is based in Chandigarh and is advising more than 500 clients across the globe on Financial Planning and Wealth Management.
He has promoted "Sahayak Gurukul" which is an attempt to share thoughts and knowledge on aspects related to Personal Finance and Wealth Management. Sahayak Gurukul provides financial insights into the markets, economy and Investments. Whether you are new to the personal finance domain or a professional looking to make your money work for you, the Sahayak Gurukul blogs and workshops are curated to demystify investing, simplify complex personal finance topics and help investors make better decisions about their money.
Alongside, Sandeep conducts regular Investor Awareness Programs and workshops for Training of Mutual Fund Distributors, and workshops and seminars on Financial Planning for Corporate groups, Teachers, Doctors and Other professionals.
Through his interactions and workshops, Sandeep works towards breaking the myths and illusions about money and finance.
His passion has driven him towards career counselling for young adults and mentoring the youngsters on achieving their life goals and becoming "Successful Humans"
He also writes a well-read blog; https://sahayakgurukul.blogspot.com
He has also conducted presentations, workshops and guest lectures at professional colleges and management institutes for students on Financial Planning and Wealth Creation.
He can be reached at:
+91-9888220088, 9814112988,
sandeepsahni@sahayakassociates.in
Follow on:
www.sahayakassociates.in,
www.facebook.com/sahayakassociates,
www.twitter.com/sahayakassociat,https://www.instagram.com/sahayakassociates/
https://sahayakgurukul.blogspot.com, https://www.sahayakassociates.in/resources/our-blog